Interpretive and Outdoor Education Programs
Fish Slough "Hands On the Land"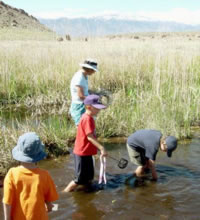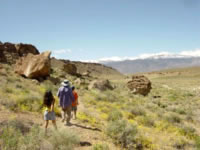 Fish Slough is a rare desert wetland, home to endemic species including the endangered Owens pupfish and threatened Fish Slough milk-vetch. The Northern Paiute people of the Owens Valley found valuable resources here, and many petroglyphs that they attribute to an even more ancient culture.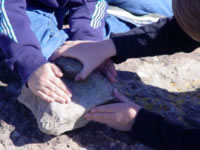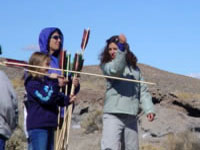 Today Fish Slough is designated an Area of Critical Environmental Concern, and part of the Hands On the Land national network of outdoor education sites. All students at the Owens Valley's six elementary schools visit Fish Slough for hands-on, curriculum-based programs designed to bring learning to life... and instill a sense of wonder and of stewardship for this extraordinary place.
See Bishop BLM's Fish Slough Hands On the Land page for more about these programs, presented in partnership with the Eastern Sierra Institute for Collaborative Education (ESICE).
Photos are from the second grade and fourth grade programs, which introduce students to Fish Slough's cultural resources, geology, botany, and ecology. Second graders take turns collecting aquatic invertebrates and going on a terrestrial discovery hike; fourth graders are shown trying out a metate and mano, and learning how to fling a dart with an atlatl.
Fish Slough Days
...a weekend family event currently in the planning stages. Watch for more information in the coming year!
Sierra Discovery Day
Join Joy and other presenters in a day of discovering hidden natural and cultural treasures of the Eastern Sierra! See ESICE's Sierra Discovery Day home page.